Discover more from Keeping It REAL Caregiving
REAL talk & guidance on family caregiving: They cared for us now it is our turn
Over 5,000 subscribers
One day when I can't: 5 activities you probably NEVER think about -- and why one day you probably will
Clean sheets and a fresh bottom! Having both may not be as easy as you think. REAL caregiver memories that make you laugh or cry
Hello KIRC family!
This past week has been a busy one for me, just as I am sure it has been for you.
As we've gone down this caregiving road together, we have talked a great deal about how important it is, especially as family caregivers, to practice self-care.
That looks and feels different for everyone. During the thick of caring for my mother, my form of self-care was nothing more than allowing myself the guilty pleasure of stretching a long hot shower out to maybe ten minutes. It was just enough time to treat myself, but not so much time that if mom needed something, I would still be able to quickly respond.
Moments of self-care and reflection look and feel a bit different now. It has been a little over two years since saying goodbye to my mother, but her presence can still be felt in many of the daily little chores I handle. Chores many of us probably take for granted.
*Previous comments as we make the move from Bulletin to Substack: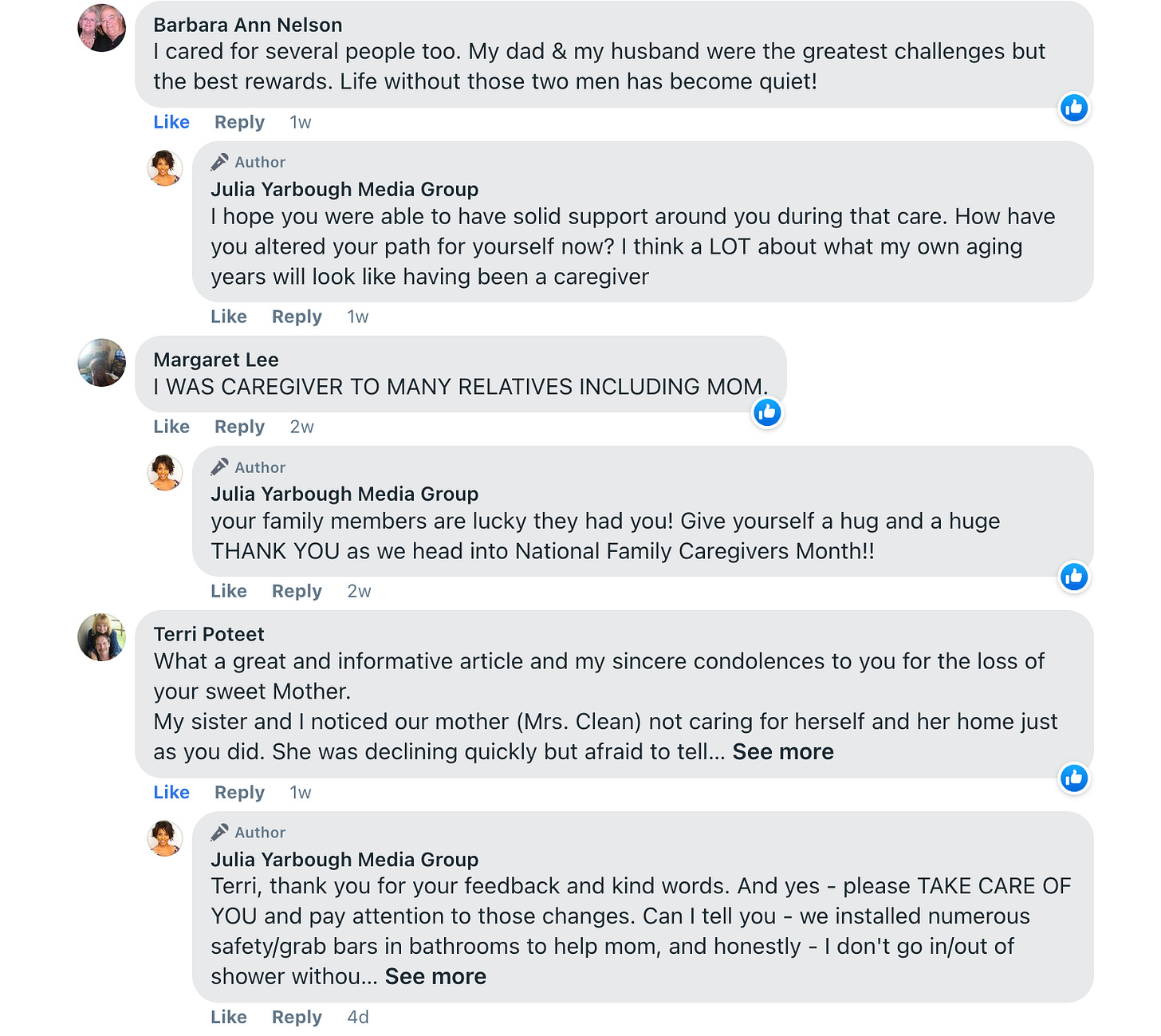 The many faces of self-care
My self care this week? Visiting one of my local organic garden sources to pick up fresh produce. The Chico State University Farm is one of my favorite 'go to' spots. Each week, the public can purchase freshly harvested organic produce at beyond reasonably affordable prices. It is a win-win for everyone!
I filled my basket with fresh eggplant, peppers, zucchini and basil. I promptly returned home and prepared a dish of eggplant parmigiana, flavored with fresh rosemary, oregano and basil from my own garden. Can I just say…it was delicious! So much so, I had seconds!
On the heels of a wonderful, home-cooked meal, I managed to schedule a day off from work. (You know me, I still tackled a few work-related tasks) but it was at a slower pace, sprinkled with striving to simply SLOW - DOWN.
I also tackled some household chores, including refreshing the linen in the extra room. (I would call it a guest room, but since only one of my close friends have come to visit in the 6.5 years since relocating to Northern California, I would be lying if I called it a 'guest' room.)
First chore of the day? Make your bed
What is the point of all of this? As I was throwing the fitted sheet up onto the bed, then diving across to try and tuck a far corner, then managing to flatten and tuck the top sheet -- I had a searing memory.
A memory of my mother. A memory of one of the first moments when I had to face the fact that my mother had aged. That she was declining and needed help
I should tell you my mother, Miss Nellie, was always an extremely proud and somewhat stubborn to a fault force to be reckoned with. I won't lie, she was a clutter-bug of things and trinkets, but she was always fastidious in ensuring household chores were managed. That included, making sure our beds were made.
Nellie & Julia Yarbough/South Florida, (2013ish...)
So imagine my concern when after several visits to my mother's home, I discovered she was not regularly making her bed. She was not regularly washing linen. She had taken to sometimes simply sleeping on top of her bed. Hmmm… what could it be, I thought?
Upon further inspection of her home (she lived alone at this time), and some investigative questions to my mother, I figured out what was going on.
Parkinson's Disease, rigidity, age & decline
She could no longer manage to pull the sheets off the bed. And if she did, she struggled to get them washed and dried. Then making the bed? Well, that was just not possible for her any longer. (Think how tricky it can be for all of us?)
Until that moment, I had never ever thought about some of the regular moments and tasks in our lives, that all of a sudden become near impossible with age, and/or medical and physical decline.
My mother suffered from Parkinson's Disease, which brought with it rigidity, loss of range of motion, poor balance and reduced coordination.
I realized, it wasn't a matter of not 'wanting' to make the bed. My mother no longer 'could' make her bed. It was the canary in the coal mine, indicating a change had arrived.
With age and decline came a host of activities which became difficult or impossible. Activities I suspect few of us give a second thought to.
I do think about these things now. I realize how fleeting time is and how simple, daily activities can become major hurdles to safety, comfort and sense of well-being.
Courtesy: Getty Images/Sally Anscombe
5 tasks we might take for granted
Making the bed. (See above)

Brushing our teeth. That requires standing or sitting at a sink. If your mobility is compromised, and without specially designed bathrooms, it can be difficult to reach a sink.

Cooking. Reaching pots and pans. Using knives can be dangerous. Reaching the stove or microwave can become impossible. Opening jars, cans, packages may not be an option. Managing plates and glasses can become dangerous in a blink of an eye.

Going outside after dark. No longer gazing at stars, the moon, feeling the cool air. Stepping out a front door could lead to a trip, fall, or worse. Navigating a public place could become treacherous. We won't even mention the dangers of driving.

Handling your own personal bathroom care. How many of you ever consider that what if, one day, you need help wiping yourself after going to the bathroom? Maybe because you simply can't reach where you need to reach, or perhaps you no longer have the balance or strength to do the job?
Yes, we're KEEPING IT REAL. Who thinks about this? Exactly! None of us. Until we become caregivers.
As I finished making the 'guest room' bed, it dawned on me: none of my self-care activities of the past 48-hours had been possible for my mother in the final years of her life, without caregiving help.
Until the bitter end, she remained mentally sharp, astute, witty and engaged. It was her body that refused to cooperate and finally gave out.
Courtesy: Canva
I hope you will think about these little moments and activities of our daily lives and not take them for granted. I watched each slip from my mother's range of ability. I can't help but consider - what happens to those who don't have children to help them? Who don't have financial means to hire help?
Call-to-action
Pay attention to your loved ones and take note of any changed habits you notice. Something which seems so simple, could be the early signs of a medical issue or age-related decline. Don't dismiss it. Stay aware. Have the tough conversations. Take action.
As for the rest of us? No excuses - we should make our beds in the morning.
Until next time~
Julia
*Header Image: Courtesy Getty Images/svetikd
*On the move - Keeping It REAL Caregiving here at Bulletin will be moving to a new home soon! Stay tuned for details on exciting new changes and updates!
*Save the Date - Final details are in the works for a very special guests for an upcoming November Sunday Coffee Chat & Support Session. If you love caring for others AND love animals, you won't want to miss this one!